Chapel of Sts Jacques Chastan & Laurent Imbert trusts Audiocenter, IVA & Proel for their daily audio system
audiocenter
,
sa312
,
pm8270
,
rx-12mk2
,
iva
,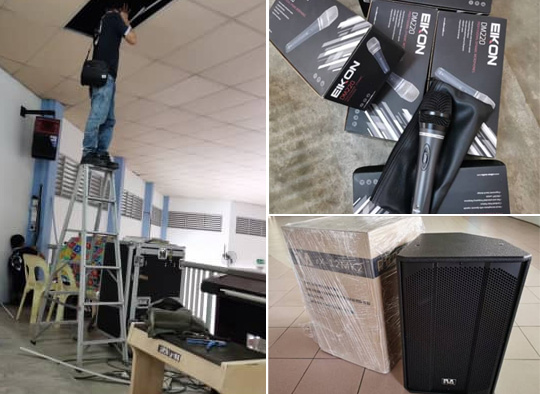 Many thank you to
Chapel of Sts Jacques Chastan & Laurent Imbert
for their trust towards our agents/reseller/installer and AVEM to propose & installs sound system for church.
Audiocenter SA312 are installed as the aging system has shown its limit. This wonderful speaker was chosen again due to the superb performance in the Church Of The Nativity Of The Blessed Virgin Mary. More read up about this project here:
http://www.avemcom.my
The IVA combo set consists of PM8270 and IVA rX-12mk2 portable system meanwhile deployed in the smaller hall as the main reinforcement system. The hall is small the requirement is to have a small system that does not take up many spaces, comfortable audio system that does not hurt the ears and easy to use as most of the users are the volunteer within the member of the church.
Proel Eikon DM220 is chosen by the as one of the good sounding entry level microphone. It's perfect for their daily usage. We have done a video about the sound quality comparison that you can check here:
https://youtu.be/2JHxogirv5s